Bhanumati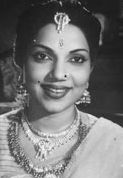 Film

Manasuna Mallella Maala Loogenay
Kannula Vennela Dola Loogenay
Enta Haaye ee rayee Nindeno
Enni Nalla Kee Nomu Pandeno

Kommala Guvvalu Gusa Gusa Manina
Remmala Gaalulu Vusurusuranina
Alanu Kolanulo Gala Gala Manina
Davvula Venuvu Savvadi Vinina

Neevu vachheavani
Nee Pilupay vini
Kannula Niridi Kalaya Choochitini

Ghadiya Yeni Ika vidichi pokuma
Egacina Hridayamu pagula nikuma
Enni Nalla ki  bratuku pandeno
Enta Haayee Eee Rayee Nindeno

Details

Writer: Krishna Sastri
Composer: S. Rajeswararao
Singer: Bhanumati
Film: Malliswari
Time: Long ago

Translation

Notions of Swaying Fragrance settled in my thought.
Tides of breaking moonlight fill my sight.
The night is suffused with bliss.
In howlong my prayers bore fruit!!

As the branches' thrushes whisper,
As the leaves' light breezes rustle,
As playful ripples crackle the pond,
As I hear a muffled flute in the distance,
Perhaps you came!
Perhaps you called me!
My tear filled eyes span near and far.

Not a moment from here on won't you leave!
This heart in swell, won't you let it break!

In how long my life bore fruit,
And How suffused in bliss is this Night!

If you want to listen to it
Other songs from the same film